Please Support Our Class Website in 2017. Can you chip in today?
All contributions will be DOUBLED through March 31!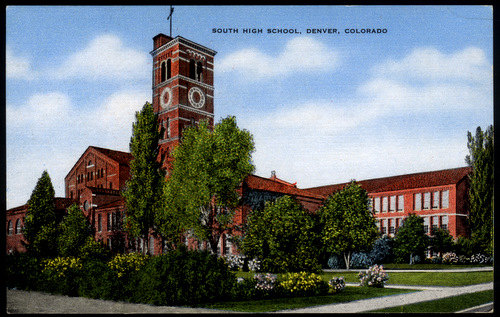 This site is operated and funded by members of our class.
Class Administrator: Judy Cook Bettinger
Page Hits: 27,157


40 Year Reunion Announcement!
---
Pizza Buffet
Friday, July 14, 2017 - 7:30 pm
Bonne Brae Tavern, 740 South University, Denver, CO 80209
$25.00/person
Included on the buffet:
Variety of pizza
Salad
Dessert
Two drink coupons for wine, well or draft

Cash bar also available.
Event Contact: Cindi Stegeman Maestas
Make Checks Payable To: n/a
Mail Payment To: Paypal to cindimaestas214@gmail.com
---
Casual Dinner Buffet
Saturday, July 15, 2017 - 6:00 pm
LoDo's Highlands Ranch 8545 South Quebec St. Highlands Ranch, CO 80130
$35/person includes meal. Gratuity and fees (online registration and event fees) added at checkout.
Appetizers:
Shrimp
Bacon-wrapped chicken
 
Salad:
Mixed greens, tomatoes, cucumbers, bacon, gorgonzola, pecans
 
Entrees:
Beef Tips
Lemon Rosemary Chicken
Halibut

Sides:
Wild Rice
Broccoli with Hollandaise
  
Dessert:
Peach Cobbler
Left Hand Milk Stout Brownies

Cash Bar available
Gluten-free meals available on request. (Use the comments field when you register.)
Event Contact: Michelle Shappell Dougan
Make Checks Payable To: n/a
Mail Payment To: Register online at http://southhighreunion77.nightout.com/
---
Picnic on the Lawn at South
Sunday, July 16, 2017 - 11:00 am
South High School, 1700 East Louisiana, Denver, CO 80210
BYO picnic
Bring a picnic and hang out on the school grounds.

Unfortunately, due to an overhaul of the ventilation system in the building, the school will *not* be open this time.
Event Contact: Deb Brown Pritchard
Make Checks Payable To: n/a
Mail Payment To: n/a
---
Class News

2/25/2017
Spread The Word!
If you have friends who aren't usually on the Internet, please let them know about the upcoming reunion! We'll be mailing invitations, but only have about 200 good addresses, so word of mout . . . Continued

11/19/2010
Byers Jr. Hiigh
There might be a new lease on life for old Byers Jr. High. See link below fr the article. http://denver.yourhub.com/Denver/Stories/YourHub-Staff-Stories/Story~908301.aspx . . . Continued

12/28/2009
Your Help Needed!
It only costs 15 bucks per month to keep this site going. If we all buy a month or two, we'll be up and running for a long time. Please chip in! . . . Continued


Today's Featured Biography
I can't wait to see everyone!
What can I say...truth really is stranger than fiction!
I am the consumate posterchild for providing living proof that God really does work with knuckleheads!
After high school I continued my quest for mediocrity in college and became quite skilled at it.
It has been said that those who aim at nothing hit it everytime and I was a crackshot!
At age 23, I experienced a defining moment in my life: I was the V.P. of our family business, PCS Corp., had just bought my first home, (a tiny 100 year old bungalow on S. Emerson St for 72k that is now worth over 275k!),drove a '71 mustang Mach 1 convertible in mint condition, (until of course, I wrecked it!), and was dating a young woman whose father was a millionaire (I planned on us being together forever no matter how she treated me!).
But the bottom line was, inspite of all the external signs of success, inside I was empty.
I continued down this path for a couple of more years until I just got too disappointed with my existence...surly there had to be a way to experience a more fulfilling and contented life!
At that point I began to investigate the relationship between absolute truth, faith, and spirituality.
That process culminated when I dedicated my life to Jesus Christ on May 5th, 1986 and I have never been the same since!
At first it seemed like everything I touched turned to gold! It was unbelievable!
Just a few months later I met my future wife and best friend Angela (I was just a young man in love when she said she wanted alot of kids... I never asked her to qualify her definition of alot but she wasn't
joking!).
Next, I tried to get her to go into full time ministry work together at our then place of worship, the Church in the City (located at the corner of Colfax & Josephine), and somehow we ended up moving out East and establishing the largest population center between the towns of Kiowa and Limon!
If you would of told me back in '85 that 22 years later I would be a bible believing husband and father, happily married to the best sale I have ever made (she has wanted her money back more than a few times!), be a father to eight precious children, Live in a small, rural community where I have the opportunity to coach football and basketball (my oldest son Zak, 6'2", 240, size 16 feet, recieved 1st team offense and defense all conference and all state honorable mention honors last year but he unfortunately inheirited his dad's knees and has had two major surgeries in high school, cutting short the opportunity to compete at the collegiate level!), be an assiociate Pastor at an incredible church and operate my own business, I would of asked you what in the heck are you smoking!
At the same time, life has not been one big bowl of cherries either.
I never imagined that my wife would become a cancer survivor at the age of forty...an illness where the cure can almost be as deadly as the disease...(her free advice would be to not harbor bitterness in your heart because...it literally can kill you!).
I also never believed I would bury my son's remains in an old cemetary accross the
road from where we live and only a short distance form the site of the tragic accident that took him home to heaven a little over three years ago at the tender age of seven...(my free advice...develop a personal and vibrant relationship with Jesus Christ before you try something like this at home!)
In all seriousness, we can't control what happens to us this side of heaven...we can only control our response...possessing an accurate eternal perspective has made all the difference in enduring the indescribable feelings of pain, loss, and grief!
Now, fellow rebels, I want you to rest assured that I am NOT coming to our reunion to launch my own T.V. ministry empire however, it would be a disservice not to share with you the best thing that ever happened to me especially since I bring much value to any of my classmates during our high school years together!
So if anyone wants to visit about any subject such as but not limited to: God, Faith, real estate, living with eight kids, cancer, the Bronco's, Buff's, our old High school days or whatever I am game!
It is going to be a great weekend!


Classreport.org provides free Class Websites for every graduating class of every high school with free access for all.
We are one of the premier social networking sites dating back to 2003. We are a small, family-owned business and yet freely host over a million class websites.
Classreport holds a special place in the hearts of our users: Bravos.
We are funded solely through your voluntary contributions. Can you help us keep this site online and ad-free for another year? Thank you for your support!
Please click here to contribute.
No Ads, No Spam, No Pop-ups, No Fees.
Class Support Status

OUR CLASS SITE IS FUNDED THROUGH
September 2018
---
This site is funded by our
Voluntary Contributions


Class Directory

Where in the world are you? Stats
Recent Profile Updates
| | |
| --- | --- |
| | Mar 27 |
| | Mar 23 |
| | Mar 23 |
| | Mar 23 |
| | Mar 23 |
| | Mar 23 |
| | Mar 23 |
| | Mar 21 |
Recent Reviews
There are no reviews on file
at this time.
This area is for comments on
books, movies, music,
restaurants, etc.
Visit Other Classes
The Office
(Admin use only)
If you have any questions or comments regarding this website, please contact:

Class Administrator
Judy Cook Bettinger

Would you like a sneak peek at a
non-functioning view of The Office?

This class reunion website is a complementary addition to your existing alumni resources.
It is a product of Classreport, Inc. and may not be affiliated with South High School or its alumni association.

Does your High School Class have a full-featured Alumni Website? Start One Now!
(Or start one for your Mother, Father, Sister, Brother, Spouse, Son, Daughter, Friend . . .)



"Ttanks for your support. I was able to get the correct document uploaded. Your site is amazing." 2/9/2017


"You have done a GREAT job with this site. I will be telling our class to update their profiles." 2/8/2017


"My class appreciates your organization more than I can say. THANK YOU." 2/8/2017


"Many thanks for the news update about our class. The site is really looking great!" 2/6/2017


"Thanks for all you do for us!" 1/13/2017


"I enjoy reading the website." 12/27/2016


"You have a great web site - Thank you!" 12/24/2016


"Thank you for having such a wonderful site. Our class appreciates your continuing work." 11/24/2016


"We are glad that you all maintain this web site. We think our site is a really good site and want to keep it running." 11/23/2016


"Great Stuff!!! Thank you." 11/23/2016



More bravos at: www.classreport.org/bravos




14th Anniversary!

Search All Schools Best Classes Reunions Features Setup Your Class FAQ Funding Our Story Support Privacy Policy We DO NOT sell advertising to support this site. We DO NOT sell names and addresses to third parties.
There are NO POP-UP ads. There are no registration fees required for participation.
Please support this site with your voluntary contributions.
We cannot provide this service without your support. Thank You! Read Our Story

ClassTraQ 9.7003c Software Copyright © 2003 - 2015 Classreport, Inc. All Rights Reserved e1