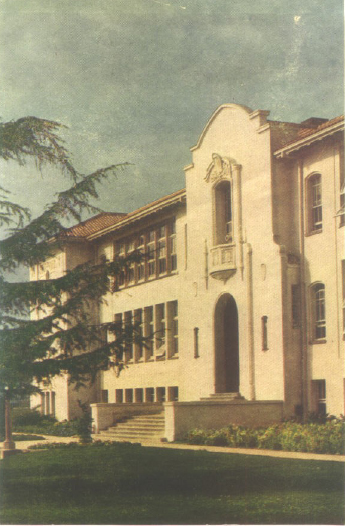 This site is operated and funded by members of our class.
Class Administrator: Bruce Christensen
Page Hits: 62,301


Event Announcement!
---
VHS ALUMNI DAY - CLASS OF '57 WINS ATTENANCE COMPETITION, 4/27/18
Tuesday, July 31, 2018
VALLEJO HIGH SCHOOL
DURING THE ALUMNI DAY CELEBRATION, FRIDAY, APRIL 27, 2018 THE CLASS OF '57 HAD MORE ATTENDEES THAN ANY OTHER VHS ALUMNI CLASS. THE SECOND PLACE FOR ATTENDANCE WENT TO THE VHS CLASS OF '52.

CONGRATULATIONS TO ALL OUR CLASSMATES WHO ATTENDED TO HELP BRING HOME THIS VICTORY.

As many of you are aware, the Annual VHS Alumni Day celebration was held off-campus for the past two years. This year, the new VHS administration, led by the VHS Principal, Dr. Quintana, invited the VHS Alumni back to the VHS campus with open arms.

On Alumni Day 2018, while the VHS Alumni were entering the campus, they were entertained by the VHS Band and the VHS Cheer Leaders who performed in the outdoor quad area of the school between 9 and 10 am. During registration in the school cafeteria, the attendees were treated to coffee and pastries hosted by the VHS Hospitality Academy, under the leadership of Ms. Camille Jefferson.

After the Alumni registered, they were warmly welcomed in the auditorium by the VHS Principal, Dr. Sheila Quintana and the new Superintendent of Schools, Dr. Adam Clark. The Master of Ceremonies for the VHS Alumni Day was the newest member of the Alumni Committee, Patrick Brooks, VHS Class of 2003.

During the Alumni Day event, in addition to being entertained by the VHS Alumni Band, the audience was treated to musical selections from the VHS Choir under the direction of Ms. Denise Hunter.
The Keynote speaker for the event was newspaper columnist and author, Brendan Riley, VHS '63.

After the program, Alumni were invited to the school library, where VHS memorabilia was on display through the efforts of the VHS Athletic Director, Josh Ramos and several of his student athletes dressed in their sports attire.

Several Alumni Day photos are available for viewing by clicking on the following link.
More Information: Click To Open
---
HAPPY INDEPENDENCE DAY AND JULY BIRTHDAYS!!!
Thursday, August 2, 2018
---
PHOTOGRAPHS OF VHS 60-YEAR REUNION HAVE BEEN POSTED!
Saturday, August 4, 2018
ZIO FRAEDO'S RESTAURANT; 23 HARBOR WAY, VALLEJO
Our 60-Year VHS Class of 1957 reunion was held on Saturday, September 16, 2017 in Vallejo at Zio Fraedo's Restaurant at 23 Harbor Way.

The reunion was attended by about 90 VHS Class of '57 classmates and guests who enjoyed recalling their high school days in the 1950s.

A delicious buffet dinner was served. The reunion committee, consisting of Gail Speckel (Barker), Anna Emge (Scopesi), Ron Smith, Sharon Rimestad (Ketelsen), Jeanne Vanecek (Miller), Bill Hopkins, Deanne Moler (Kulmus), and Bruce Christensen were introduced and there were several door prizes awarded.

A short program was held after the dinner, with 1950s music provided by classmate Ron Smith.

Thanks to all who attended the 60-year reunion. We're looking forward to the year 2022 when we will gather to celebrate the VHS Class of 1957's 65-Year reunion.

Many photos of the 60-year event were taken during the celebration and can be viewed on the website at the link provided below. If you have additional photos of the reunion attendees that you would like to have posted, please email them to vhsclassof1957@gmail.com.

Thanks, Bruce Christensen


More Information: Click To Open
---
WITH LOVING MEMORIES
Sunday, August 5, 2018
---
Event Announcement!
---
---
Class News

5/22/2018
CLASSMATE MARILYN HOEHN FROST-BENTLEY PASSES
On May 16, 2018, VHS Class of 1957 classmate, Marilyn Hoehn passed away. Further details will be provided when they become available. . . . Continued

5/22/2018
CLASSMATE BILLY SIEBERT PASSES
On November 20, 2017 Phillip (Billy) Siebert of the VHS Class of 1957 passed away peacefully at his home in American Canyon. Billy was preceded in death by his wife, Janice, in 2016. He wa . . . Continued

3/9/2018
CLASSMATE BARBARA JACQUES BOTTARI PASSES
It was just learned that VHS Class of 1957 member Barbara Jaques Botarri passed away in Napa, CA in January 2018. Additional details will be provided if and when available. . . . Continued


Today's Featured Biography
What an unusual life I have enjoyed! After graduating as a majorette, I married a marine in 1958 and had 4 children. Although I have 3 fantastic daughters, I still miss my son who died in infancy in 1969.

I recently retired as owner of 360House Stagers. I am an Accredited Staging Professional Master and Staging Instructor. I got into this business by accident while a Realtor in Valley Springs, CA. Tired of listing and selling cluttered and boring homes, I began to show my sellers what needed to be done to bring their home to market and get it $old.

One day I learned that what I was doing had a name - "STAGING". But this is later in my life, and the road was paved with a variety of occupations not generally related to one another, so here goes!

I became a Property Manager for a 376 unit complex in Columbus Ohio. I co-owned Hunters Haven Taxidermy and Midwest Custom Tannery in Columbus Ohio. I became sole owner after the divorce. Being the only woman owner and operator of a commercial tannery had its benefits. Reporters found it fascinating that I could skin a deer, degrease a bear skin, and stretch out a zebra hide.

I was featured on several TV news programs, radio interviews and many articles in the Columbus Dispatch. Featured speaker at civic clubs, held positions of President, Vice-President and secretary of several industry organizations. I was acquisition chairman for Women's Ducks Unlimited. Profiled in Who's Who of American Women and Who's Who in International Business Women.... Not bad from the "Ole Charleston" dancing gal of the 50's.

In 89, I sold my equipment and I ventured back to California and the Silicon Valley. I was on the accounting staff at SLAC in Menlo Park,tracking the excellorator improvement projects, Then Personal Coordinator for 3 McDonalds Stores, and Office Manager of Global Brain a high tech training company. I attended the UOP but still lack credits for my degree.

After being divorced for 15 years, I got re-acquainted with the love of my life, Jim Walker. We had known each other since I was ten and dated off and on in my teen age years. We have enjoyed traveling across the U.S. in our motor home (before gas got out of sight). Now we travel in our Prius and stay in motels. At 49- 51 MPG we think that is sweet. We had the pleasure of visiting one on one with Jim Stafford after one of his shows. Mickey Gilley held my hand and sang "Sweet Caroline" to me. Bobby Vinton sang to me, and I had a photo with Ed McMahon.

The Captain of a Princess Cruise ship arranged for a private tour of "off limit" areas. I really enjoyed that. I stood with the 1st Engineer (to the envy of others) high on the ship going through the Panama Canal.

Boring, my life has not been! We became a couple and bought a home on La Contenta Golf Course in Valley Springs, CA. Playing golf everyday wasn't stimulating me, so I took up Real Estate before earning my designation as an Accredited Staging Professional Master. I was soon honored to be picked by the creator of Home Staging, Barb Schwarz, as part of her elite training team. What fun I had traveling and teaching Staging in Minnesota, Utah, Washington, Idaho and DC.

My new husband felt differently. He called himself my "lacky", carrying all the teaching equipment on the planes wasn't fun in the least. We both became frustrated wondering what State we were in when we woke up, so I open up my own staging business.

My team included my youngest daughter and her husband and my step-daughter who are all certified Stagers. I love the challenge of making a dull house dazzle. That brings me up to date.

I am a Happy Conservative, and proud Tea Party member. My eldest daughter has blessed me with a really neat grandson who at 14 bagged his first deer using a bow and arrow. He was so cute, he told his mom, she could use his tree stand!

My youngest daughter and her husband have blessed me with a darling 8 year old grandson KAI, who is smart as a whip. He loves to ride his dirt bike with his dad. He is in a school for gifted and talented children and with him there is never a dull moment. June 15 2016 another grandson came into the family, he is as adorable as his brother. He was names Gabriel and though he is only a year old, he flirts with all the women he sees.

Do I miss Vallejo? NOT! I was sad, however, to see the beautiful High School building demolished, what were they thinking. Or more to the point why the heck didn't they think. I hope the coming years are as different as the past. I am Happy as can be although I miss my staging business.

I am a helpmate of sorts.....in todays world that means co-dependent!
I enjoy speaking to groups - (like to be in control)
I enjoy going to open houses - (I am nosy)
My favorite quote is: "If it's not broke....don't fix it.".
I enjoy meeting people ( I am a pain in the ass)".
Some of my friends are a brick short of a building, and a sandwich short of a picnic; but I love them all.
Well, here I go again, couldn't just sit around...SOOOOOO I became a wellness advocate using doTerra Essential Oils. I enjoy helping others with their health issues and am amazed at all that can be helped using certified pure essential oils.

We live on the 3rd fairway here in Meridian, Idaho. I feel blessed when I wake up and see that I am not in the obits... That's my story and I am sticking to it.......



Classreport.org provides free Class Websites for every graduating class of every high school with free access for all.
We are one of the premier social networking sites dating back to 2003. We are a small, family-owned business and yet freely host over a million class websites. Our Story
Classreport holds a special place in the hearts of our users: Bravos.
Class Support Status

Our Class Site is Fully Funded!
Additional contributions are welcome and will be used to provide support for the larger Classreport community.
CLICK HERE TO LEARN MORE
Class Directory

Where in the world are you? Stats
Recent Profile Updates
| | |
| --- | --- |
| | Jul 6 |
| | May 22 |
| | May 22 |
| | Apr 17 |
| | Mar 9 |
| | Jan 15 |
| | Jan 13 |
| | Sep 23 |
Class Poll
There is no Active Poll
at this time.
Visit Other Classes
The Office
(Admin use only)
If you have any questions or comments regarding this website, please contact:

Class Administrator
Bruce Christensen

VHS Site Coordinator
William Strong
Class of 1962

Would you like a sneak peek at a
non-functioning view of The Office?

This class reunion website is a complementary addition to your existing alumni resources.
It is a product of Classreport, Inc. and may not be affiliated with Vallejo High School or its alumni association.

Does your High School Class have a full-featured Alumni Website? Start One Now!
(Or start one for your Mother, Father, Sister, Brother, Spouse, Son, Daughter, Friend . . .)



"Just discovered your product today while trying to locate classmates ahead of our 50th reunion in 2020. The fact that you did this in a noncommercial manner in a world where everything has a price tag deserves recognition and respect, in my view. Thank you and good luck in all your endeavors." 5/5/2018


"THANKYOU so much for handling this for us! We are so appreciative! It looks GREAT!" 5/2/2018


"Thank YOU for helping us get the word out! I've posted a link to the website on our FB group page and vigorously encouraged other classmates to contribute" 4/27/2018


"Your site is amazing. Kudos to you and your staff. You have benefitted so many high school alumni in organizing their class reunions." 10/4/2017


"Thanks to classreport.org our class website played a huge part in the success of our Reunion. We greatly appreciate your wonderful support." 10/3/2017


"Thanks for all your hard work and ingenious spirit." 9/25/2017


"Thanks guys, you are Good!!" 9/23/2017


"I love your service and will continue to support you." 9/14/2017


"We have been using the website for more than 10 years now. It's still the best website out there for classmates to meet, collect their info and advertise their reunions. Thanks for inventing it all!" 9/11/2017


"Thank you for your assistance. It was very helpful. Looks good!" 9/5/2017



More bravos at: www.classreport.org/bravos




15th Anniversary!
There are no fees required for participation on this site.
Please support this site with your voluntary contributions.
We cannot provide this service without your support. Thank You!
Please read Our Story
ClassTraQ 11.003 Software Copyright © 2003 - 2017 Classreport, Inc. All Rights Reserved e1 amsc: 1