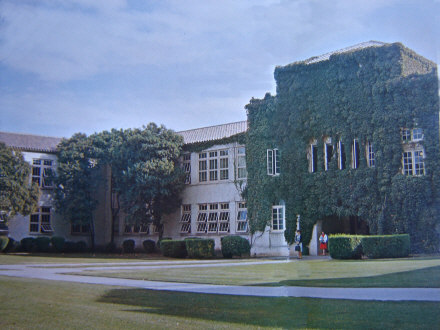 This site is operated and funded by members of our class.
Class Administrator: Ronald Firestine
Page Hits: 16,061


55 Year Reunion Announcement!
---
We had our break - it is time to start planning!
Saturday, October 6, 2018
PICADILLY INN SHAW, 2305 West Shaw Avenue Fresno, CA 93711
We have booked the Piccadilly Inn Shaw for our 55th reunion. If you are quick - you can get one of the ten rooms that they have reserved for our class. The rooms are on a first come basis. Other rooms may be available if you make your reservations early enough. You can get more information about the venue at:
http://www.piccadillyinn.com/fresnohotel/

The theme for the 55th reunion is:
MOMENTS TO REMEMBER
---
Class News

12/8/2017
Mardith Biedermann
Mardith Mitchell Biedermann 73, passed away December 02, 2017. Mardith was very well known for her beautiful smile, friendly and sweet disposition, hugs, and unconditional love for all. She . . . Continued


Our Class Message Board
Your participation is requested!
We would like to hear from you. Post your messages here.

ADD NEW VIEW ALL

Indicates an included photo
| | |
| --- | --- |
| Don Granz | Ronald Firestine |
| Passed away on November 18, 2017 | Thu 1/4/2018 3:19 PM |
| Hannah Benson | Ronald Firestine |
| From the Fresno Bee: The Daily Planet w | Thu 1/4/2018 10:55 AM |
| Mardith Biedermann | Ronald Firestine |
| Mardith Biedermann Mardith Mitchell Bied | Fri 12/8/2017 1:18 PM |
| James Charles Dirlam | Ronald Firestine |
|      James Charles D | Sun 9/10/2017 11:50 AM |
| Byron Kemmer | Ronald Firestine |
| Byron Kemmer passed away on 30 June 2017 | Fri 8/4/2017 2:03 PM |
| Adolph Lucero | Ronald Firestine |
| Adolph passed away on 22 Jun 2016. | Mon 7/11/2016 5:37 PM |
| Richard L Wood | Ronald Firestine |
| Richard passed away on 13 February 2016. | Tue 2/23/2016 9:52 AM |
| Doug Waite | Ronald Firestine |
| Doug Waite passed away on Sept 28, 2015. | Wed 10/21/2015 10:11 AM |
| David Ash | Ronald Firestine |
| ASH — David E. Ash, 70, of Pinedale died | Wed 10/21/2015 10:07 AM |
| Message | Ronald Firestine |
| Subject: Sad news of Hal Salwasser's pa | Thu 10/16/2014 7:05 PM |
| Duane Weston | Ronald Firestine |
| It is with a heavy heart that we announc | Mon 12/16/2013 9:09 PM |
| Message | Ronald Firestine |
| Here are some links to a impromptu Sunda | Tue 10/15/2013 8:45 PM |
| Message | Sandy Skaggs Thompson |
| What a speecial evening!! Great food, g | Mon 10/14/2013 11:39 AM |
| Memorabilia wanted | Ronald Firestine |
| We are looking for memorabilia to displa | Mon 8/19/2013 5:39 PM |
| Cambria | Jim Major |
| Hi all, we've recently moved to Cambria. | Mon 8/27/2012 2:30 PM |
Today's Featured Biography
After RHS, I played baseball and wrestled one semester at FCC. I finished up my Phys. Ed. major/German minor degree and credential at FSC in 1968/69. Jeanne and I were married in June 1968. She was an art major at FSC. We met in a Christian group called the Navigators.
From 1969-72 I did a stint in the USMC as a Leutenant. I was stationed at Camp Pendelton, Okinawa, Vietnam and Santa Ana.
From 1972-78 I worked for FUSD as an Adapted P.E. teacher working with handicapped kids and coaching the Bullard H.S. wrestling team. In 1978 I completed a M.A. in Phys. Ed. at CSUF.
In 1978-80 I attended the Mennonite Brethren Biblical Seminary in Fresno completing a M.A. in World Missions.
From 1980 to 1994 we lived in Germany helping Germans to start churches. We lived in two towns, Lindau in Bavaria and Kandern in the Black Forest, by Basel, Switzerland.
In 1994 we returned to Fresno to stay for one year. Due to family responsibilities, we were required to stay in Fresno, and in 1998, I was hired again by FUSD to work as an Adapted P.E. teacher, where I continue to work.
In 1995 I completed a Doctor of Ministry degree through Westminster Theological Seminary, Escondido, CA.
Since 1995 I have traveled each summer back to Germany to work with our friends, who are starting or caring for churches there. I have been the Mission Director of Antiochia Teams Mission since 1989.
In the summer of 2008 I was able to successfully defend my Ph.D. dissertation at the Foundation House, Oxford, UK. The degree is through the Graduate Theological Foundation, Indiana.
Jeanne and I celebrated our 44th anniversary in June of 2012. We are thankful to God for His grace to us!
All our children are now married and have children of their own (three boys and two girls). In Oct. 2011 I began drawing my SS benefit (a year late), so I could continue to work full-time with FUSD. Retirement is still a couple of years away, if my health allows me to continue to work.


Family News Summary
Enter your Family News Item choosing from our pre-defined categories:
Anniversary, Award, Birth, Death, Diagnosis, Engagement, Graduation, Lottery, Retirement, Vacation, Wedding, Other.
Death
Sharon Rau (McMillan) deceased 4-27-2004
Posted by: Wayne McMillan

7/9/2008
Calendar
There are no Calendar items on file
at this time.

Today's Featured Class Member Website
Classreport.org provides free Class Websites for every graduating class of every high school with free access for all.
We are one of the premier social networking sites dating back to 2003. We are a small, family-owned business and yet freely host over a million class websites. Our Story
Classreport holds a special place in the hearts of our users: Bravos.
We are funded through voluntary contributions. Can you help keep this site online for another year? Thank you for your support!
Please click here to contribute.
Class Support Status

Our Class Site is Fully Funded!
Additional contributions are welcome and will be used to provide support for the larger Classreport community.
CLICK HERE TO LEARN MORE
Class Directory

Where in the world are you? Stats
Recent Profile Updates
| | |
| --- | --- |
| | Jan 19 |
| | Jan 19 |
| | Jan 19 |
| | Jan 19 |
| | Jan 19 |
| | Jan 19 |
| | Jan 19 |
| | Jan 19 |
Class Poll
There is no Active Poll
at this time.
Recent Reviews
There are no reviews on file
at this time.
This area is for comments on
books, movies, music,
restaurants, etc.
Visit Other Classes
The Office
(Admin use only)
If you have any questions or comments regarding this website, please contact:

Class Administrator
Ronald Firestine

Would you like a sneak peek at a
non-functioning view of The Office?

This class reunion website is a complementary addition to your existing alumni resources.
It is a product of Classreport, Inc. and may not be affiliated with Roosevelt High School or its alumni association.

Does your High School Class have a full-featured Alumni Website? Start One Now!
(Or start one for your Mother, Father, Sister, Brother, Spouse, Son, Daughter, Friend . . .)



"Your site is amazing. Kudos to you and your staff. You have benefitted so many high school alumni in organizing their class reunions." 10/4/2017


"Thanks to classreport.org our class website played a huge part in the success of our Reunion. We greatly appreciate your wonderful support." 10/3/2017


"Thanks for all your hard work and ingenious spirit." 9/25/2017


"Thanks guys, you are Good!!" 9/23/2017


"I love your service and will continue to support you." 9/14/2017


"We have been using the website for more than 10 years now. It's still the best website out there for classmates to meet, collect their info and advertise their reunions. Thanks for inventing it all!" 9/11/2017


"Thank you for your assistance. It was very helpful. Looks good!" 9/5/2017


"I am so grateful I found your website. It is especially wonderful for our classmates. I will spread the word!!" 8/31/2017


"Our high school reunion was a great success and our site on ClassReport.Org was a HUGE help in that success! ClassReport.Org is by far the best platform on the Internet when it comes to high school reunions!" 8/30/2017


"Thanks for all of your help and the great web site you have. We have a great response for our upccoming reunion events in September." 8/7/2017



More bravos at: www.classreport.org/bravos




15th Anniversary!
There are no fees required for participation on this site.
Please support this site with your voluntary contributions.
We cannot provide this service without your support. Thank You!
Please read Our Story
ClassTraQ 11.003 Software Copyright © 2003 - 2017 Classreport, Inc. All Rights Reserved e1 amsc: 1