Dear Classreport users:
We are one of the premiere social networking websites dating back to 2003. We are a small, family owned and operated business with less than 15 staff but freely host over a million class websites. Classreport holds a special place in the hearts of our users:
Bravos
. We are funded solely through your voluntary contributions. Despite our small size we have the same costs as any other site: servers, security, software, and staff. So now we ask for your support. If everyone reading this gave $15, our fundraiser would be over in one day. If Classreport is useful to you, take one minute to keep it online and ad-free for another year. Thank you.
Click here to chip in now
.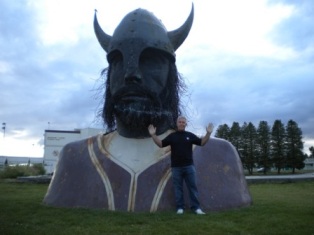 Vikings
10th Anniversary!
Please Support Our Class Website in 2014. Can you chip in today?
Classreport will match all 6 month contributions through December 31!






This site is operated and funded by members of our class.
Class Administrator: Bev MacMillan Pearson
Page Hits: 20,314


40 Year Reunion Announcement!
---
Eagle Creek at Burnaby Mountain Golf Course
Saturday, September 17, 2016 - 6:30 pm
Wasn't that AWESOME?!

Thank you everyone for your assistance and support in making the evening so wonderful. And thank you everyone for attending!

Please use the class messages section further down the page (not class news) to post your comments, recommendations, etc..

We have just started to post the photos here, keep checking back, as it will take a while to get them all up. Please send yours to me at pearsons@shaw.ca

If you wish to share your email with classmates, go to your profile, enter it, and tick yes it can be displayed. If anyone has difficulty with this, let me know and I can do it for you.
Please let me know if your email changes in the future, so that I can keep you updated.

The old slideshow has just moved down the page.

To be continued.......


Please ignore date at the top, only way to keep this on here.
Event Contact: Bev MacMillan
---
Class News

11/15/2014
Thank you.
Thank you to everyone who attended the drop-in at the Admiral on Oct 25. We had 42 people, including spouses/guests, so that is pretty good! Cherry Howcroft has generously donated the proc . . . Continued

9/6/2014
Burnaby North Drop In Saturday October 25, 2014
There will be an informal drop-in held at the Old Admiral Hotel Pub, 4125 E. Hastings, Saturday Oct 25 from 7 pm to closing. For our class and anyone else who feels like dropping by. . . . Continued

5/7/2013
42 Year /60th Birthday Drop In
Saturday Sept 21, 2013 6pm- 1am Drop by " the back room/cafe" at Burnaby Mtn. Golf Course 7600 Halifax Free, no ticket, just show up. The bar and food service will be available. Everyone . . . Continued


Our Class Message Board
Your participation is requested!
We would like to hear from you. Post your messages here.

ADD NEW VIEW ALL

Indicates an included photo
| | |
| --- | --- |
| 45 Year reunion 2016 | Laurie Jones Canta |
| What do people feel about adding an invi | Sat 11/15/2014 5:35 PM |
| Teacher - Author Joe Varro | Laurie Jones Canta |
| Joe Varro has published a book: I just | Thu 11/6/2014 11:48 PM |
| Class of 1963 50 year Reunion | Bev MacMillan Pearson |
| Class of '63 - 50th Reunion 7:00 p.m. Sa | Wed 3/6/2013 10:48 AM |
| Message | Bev MacMillan Pearson |
| Sad news...Doug Pavan passed away in ear | Sat 8/18/2012 3:51 PM |
| Elem school photos still needed | Bev MacMillan Pearson |
| I would still like to get the rest of th | Mon 4/30/2012 7:43 PM |
| Message | Laurie Jones Canta |
| BURNABY Heights Residents REUNION, Nov | Sun 11/6/2011 6:28 PM |
| NORTH clothing orders | Laurie Jones Canta |
| Thanks to all who supported the BN Marke | Mon 10/3/2011 9:10 PM |
| What a night to remember!! | Laurie Jones Canta |
| I hope we can upload additional photos - | Mon 10/3/2011 6:59 PM |
| Thank you all | Bruce Elliott |
| Thanks every one for showing up, I was e | Wed 9/21/2011 10:29 AM |
| Mike Taylor | Mike Taylor |
| Great time! Now instead of worrying abou | Tue 9/20/2011 9:37 PM |
| Heather Mac Neil | Heather MacNeil Griffith |
| I had the best time ever!!! Thank you so | Mon 9/19/2011 9:02 PM |
| Message | Roy Battistel |
| That was AWESOME!!! I've got about an ho | Mon 9/19/2011 2:24 PM |
| Message | Cherry Howcroft Newman |
| Bev had an awesome time last night looki | Sun 9/18/2011 10:31 PM |
| Share your thoughts here | Bev MacMillan Pearson |
| If you wish to post a public message, ha | Sun 9/18/2011 3:21 PM |
| Ticket sale photo | Bev MacMillan |
| Here is a photo from Thursday's ticket s | Fri 6/24/2011 11:08 AM |
Today's Featured Biography
Officially finished Grade 12 at night school after having Tia in October 1970. We all know how old she is this year! Went to work at Woodwards downtown and back to school at Douglas College, then SFU once I'd saved enough money for tuition and got through on bursaries and scholarships...Kinesiology and Dance make up my interdisciplinary studies BA degree which took me until 1982 to complete...I got to realize my dream performing as first soloist for JumpStart, a Burnaby dance company, and a founding member of what was then Independent Dance Series (now: Fringe Fest)-moved to Victoria and then Terrace for a stint teaching fitness and dance along the way...met my hubby at Champlain Hts Rec Centre, married at 32 - I have a son Damian 24,and Milena is 21. I work 3 blocks from home for Human Resources with School District 43 Coquitlam and hang out in my studio loft when the mood hits me...it's so great to network with old friends so if you find me please say hello!


Family News Summary
Enter your Family News Item choosing from our pre-defined categories:
Anniversary, Award, Birth, Death, Diagnosis, Engagement, Graduation, Lottery, Retirement, Vacation, Wedding, Other.
| | | |
| --- | --- | --- |
| Job/Career | Posted by: Susan Stephenson Penner | 11/29/2010 |
Calendar
There are no Calendar items on file
at this time.

Classreport.org provides free Class Websites for every graduating class of every high school with free access for all.
No Ads, No Spam, No Pop-ups, No Fees.
Class Support Status

OUR CLASS SITE IS FUNDED THROUGH
January 2016
---
This site is funded by our
Voluntary Contributions

Click Here to Chip In


Recent Profile Updates
| | |
| --- | --- |
| | Nov 13 |
| | Oct 29 |
| | Oct 26 |
| | Oct 24 |
| | Oct 18 |
| | Oct 11 |
| | Sep 30 |
| | Sep 9 |
Class Poll
There is no Active Poll
at this time.
Recent Reviews
There are no reviews on file
at this time.
This area is for comments on
books, movies, music,
restaurants, etc.
Visit Other Classes
The Office
(Admin use only)
If you have any questions or comments regarding this website, please contact:

Class Administrator
Bev MacMillan Pearson

Would you like a sneak peek at a
non-functioning view of The Office?

This class reunion website is a complementary addition to your existing alumni resources.
It is a product of Classreport, Inc. and may not be affiliated with Burnaby North Secondary or its alumni association.

Does your High School Class have a full-featured Alumni Website? Start One Now!
(Or start one for your Mother, Father, Sister, Brother, Spouse, Son, Daughter, Friend . . .)



"Thank you so very much for this wonderful site to help people connect again." 12/4/2014


"I want to take this opportunity to let you know that my entire class and I enjoy your hosting. As class admin I have not gotten one single negative complaint. Keep up the good work, and again Thanks!!" 11/25/2014


"Most of the credit for our site goes to your Classreport capability. It really makes creating and maintaining a high school class website easy, even for someone who doesn't know much about html. I'm no expert by far but have learned a lot working on our class website. Thanks to you all for this great website capability." 11/22/2014


"Thanks so much for the website. You folks have rendered a wonderful service to high school graduates all over the world." 11/20/2014


"Love the site!" 11/16/2014


"I must send you a HUGE thank-you for all the different things we are able to do with the tools you have provided. I was able to print out the name tags with pictures on them - big hit! Downloaded a memory book to flash drives and gave out at the reunion. Very easy to work with everything on this website. THANK YOU!" 11/13/2014


"Great Site!!! Thank You!!!" 11/12/2014


"I like the website and I think the committee for our class did a wonderful job setting it up." 11/7/2014


"Thanks to your wonderful site, we had a truly great turnout for our Reunion! This site has been a terrific help!" 11/6/2014


"You all do a tremendous job of keeping our websites running smoothly and making our jobs much easier with this awesome service!" 11/4/2014



More bravos at: www.classreport.org/bravos




10th Anniversary!

Search All Schools Best Classes Reunions Features Setup Your Class FAQ Funding Our Story Support Privacy Policy We DO NOT sell advertising to support this site. We DO NOT sell names and addresses to third parties.
There are NO POP-UP ads. There are no registration fees required for participation.
Please support this site with your voluntary contributions.
We cannot provide this service without your support. Thank You! Read Our Story

ClassTraQ 9.6001a Software Copyright © 2003 - 2014 Classreport, Inc. All Rights Reserved e1